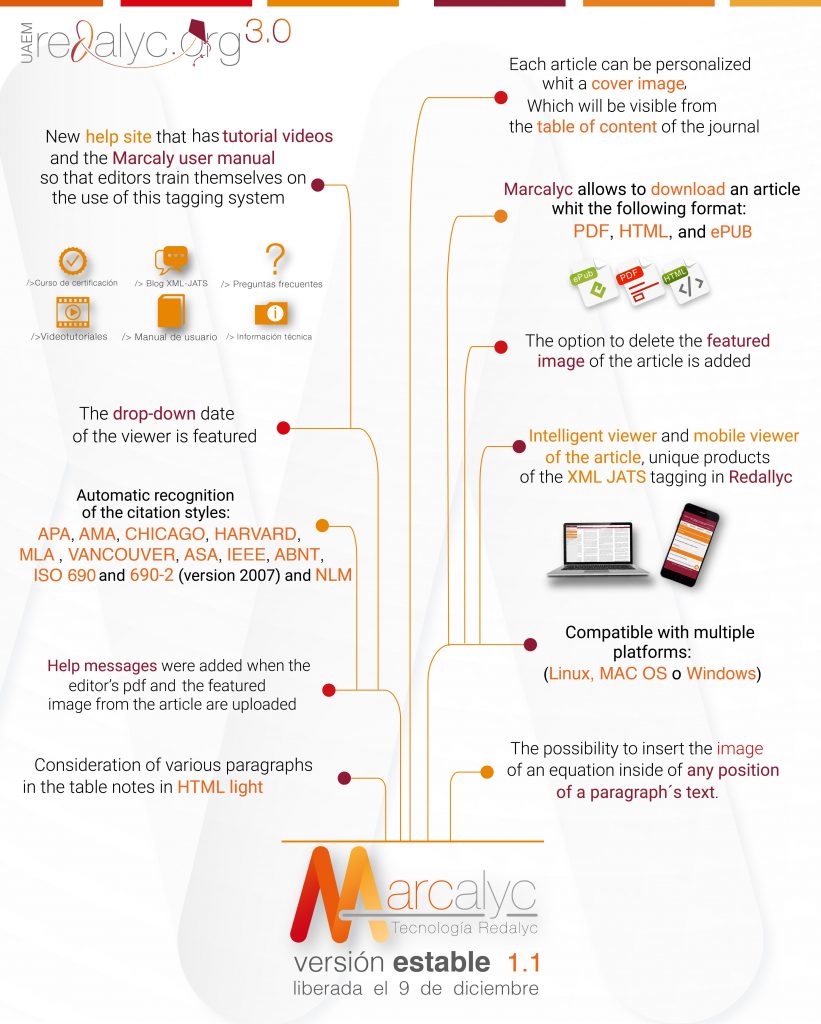 Redalyc continues to innovate with Marcalyc.
On January 10 of this year, the version 1.1 was released, which recovers the features of previous versions and adds new ones, improving the tagging experience for editors of open access scientific journals.
Among the new features of the version 1.1 of Marcalyc is the automatic recognition of 12 different citation formats: APA, AMA, CHICAGO, HARVARD, MLA, VANCOUVER, ASA, IEEE, ABNT, ISO 690 and 690-2 (2007 version) and NLM.
The version 1.1 of Marcalyc allows editors to personalize their articles with a cover image that will be visible in the table of contents of each number. In this way, the article's content is illustrated.
With the aim of making the use of this tagging tool more friendly and easy, Redalyc has created a new site for educational support to editors: Marcalyc Help (marcalyc.redalyc.org/ayuda/). This site has tutorial videos, Marcalyc's user manual, videos of the certification course and a section of Frequently Asked Questions (FAQ), apart from a recompilation of the features of previous Marcalyc versions.
From the support site, it is possible to link to the xmljtasredalyc.org, know the online support channels and connect with Redalyc's social media.
Marcalyc Help strengthens the personalized trainings to editors that have been carried out since September.
Marcalyc, launched in September 1, 2016, is an XML JATS tagging tool, a free service for editors of journals indexed in redalyc.org. In addition, it is compatible with the JATS4R recommendation.
Redalyc provides this tool with new features for future versions.
Redalyc 3.0. One model, thousands of editors, various platforms